The wedding day is one of the most awaited days of our life and to keep it more special and memorable, we do everything we can. Pulling a wedding perfectly can require a lot of effort. A few years ago, people would do the wedding preparations themselves, which would sometimes result in the food not ordered well or the guest list being incomplete.
This is when the wedding planners came in with all the expertise and skills to pull out a wonderful wedding. Only a wedding planner can tell who to talk to, where to get the best flowers on cheaper rates and how to focus on every single wedding detail.
Most of the people do not possess good budgeting skills and planning a wedding is also about keeping the expenses on a budget. A wedding planner is just like a financial advisor who knows how to perfectly arrange everything keeping up the budget. A wedding should be a worth it experience for the rest of our lives but planning a wedding can make it more stressful rather than exciting. A wedding planner is the one who takes all your stress and gives you the time to enjoy your wedding the way you want.
In a wedding, the bride and groom are not the only ones to have a wish list. Close friends and family can have their own preferences as well. Keeping the wishes of every person can be a hard task. But a wedding planner has the expertise to listen to everyone and plan a wedding that fulfills the desires of every person.
A wedding services invoice includes the following:
Brides/grooms name and address
Hours for site visit and preliminary preparation
Rate per hour for the initial meeting with the client
Description of the services offered
Estimated hours required for each service offered
Hourly rate for the estimated hours
Expenses incurred to decorate the venue
Reimbursement expenses to pay external vendors
Preview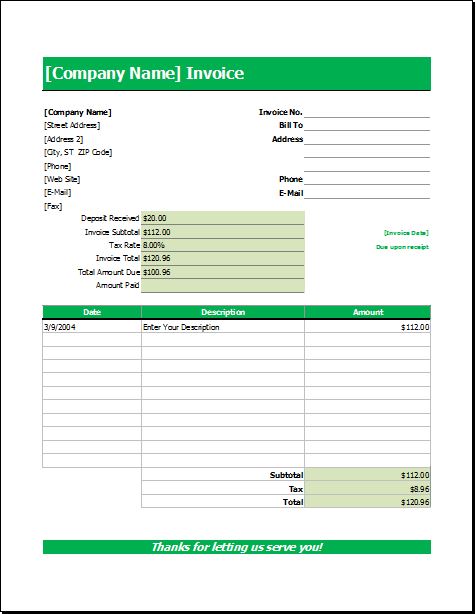 Format: MS Excel 2003 & Later