Business Invoices
The commercial invoice template is an elegant yet simple form that is used for final billing once goods have been shipped. This invoice template has all the detailed information about buyer, seller and also about the order and a section that specifies terms of agreement. In almost all the types of industry businesses, it has been quite time now that these invoices are being used for getting payments.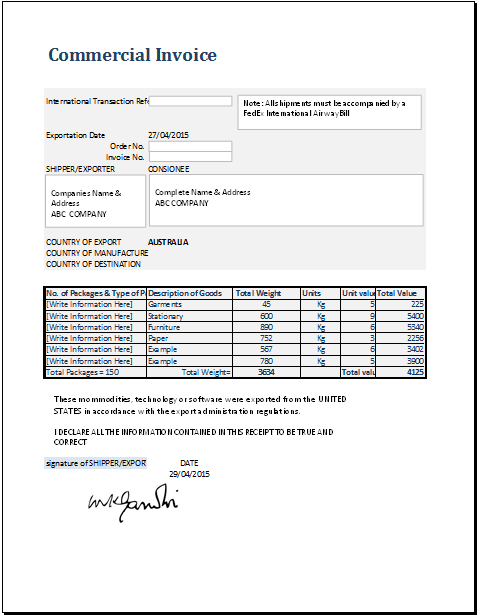 If you have sold your products or have offered your services to different customers and your payment is still to be received then commercial invoice template can be sent to ask your customers to pay you. If you do not have enough idea that how to make a comprehensive and detailed commercial invoice, then you can download a readymade invoice template from any good website. Try to find out a websites that offer s a download without any cost.
You can either fill this form online then get it printed or you can download a commercial invoice template and get it filled by hand. This way you would not have to spend much time and put a lot of effort and also you would not have to hire any professional for creating this commercial invoice for you.
The commercial invoice template generally contains the information about the company sending this invoice, the name and complete address of recipient, invoice number, invoice date, serial number, particulars of services or products, rate and total amount due for payment including taxes. The invoice template ends with the signatures of sending personnel.
Commercial Invoice Template
Microsoft Word document file | File size 40 KB | Download
The file can be download in OpenOffice format (.odt)
OpenOffice Format
File size 34 Kb | Download