Workout Log & Professional Formats
If you've been working out or exercising lately or you're a center which runs workout activities then you need a daily workout log where people can log or register in their activities and how much time it took them for a particular workout or exercise. It is very important to keep a record of your workouts to ensure you're doing everything correctly and for the right amount of time.
If you're in need of a daily workout log, you really don't need to construct daily workout record table yourself. In today's day and age when everything is so widely available on the internet, you should also utilize this convenience. Making your own daily workout schedule can be very time consuming and tiring. The best thing to do in such a case would be to download a comprehensive template. Templates are created to make your life easier. The internet has a wide variety of templates which you can download.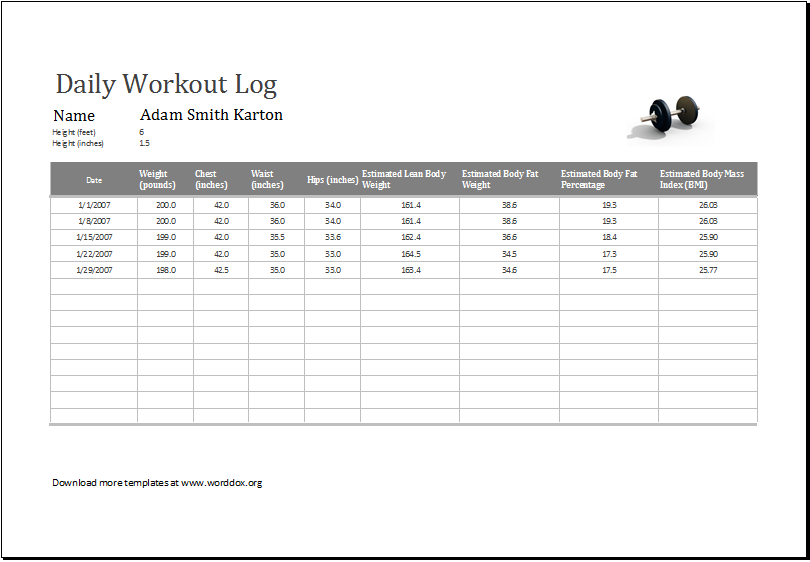 Templates are fun to search for and easy to follow. It has so many different types of templates that you will for sure find the one you want or have been looking for. Furthermore, most of the templates are either free or very cheap. You might just need to pay a small fee in order to get access to these templates.
Daily Workout Log Template
Microsoft Excel Format | File size 61 KB |
Download
OpenOffice format (.ods)
File size 20 Kb | Download
Now you get a daily workout log template in 3 easy steps:
Search for the template
Download it
Print
We have here a ready to use template designed by professionals. We hope you are at right place to find a good template that was your ultimate requirement.