Physical health refers to the well-being of a person physically i.e., all his internal systems are working in a fine manner and contributing towards his physical state of being. In case of ailments, medication, and other remedies struggle to maintain a homeostatic environment inside the body that keeps it functionally well and running.
Exercise contributes a lot to a healthy physical state of a person by keeping them on the move. A proper workout regime has proven to exert positive effects on the physical as well mental health of an individual.
A daily workout log refers to a document or worksheet that records the regular workout routine of an individual. A workout routine for a definite period of time is recorded to make inferences at the end of time. It has proven to be a significant tool for maintaining a regular workout routine and noticing its productive consequences on oneself.
Workouts can be done either at home or at the gym under professional supervision because wrong exercises and postures can lead to serious complications. Workouts are based on several factors such as weight, height, body mass, muscle mass, etc. Exercises and other types of workouts are planned by professionals after keeping in mind all the above-mentioned factors.
Contents of the workout log
The contents of the workout log of every individual are based on the type of exercise they perform which is dependent on their physical situation. Generally, the following contents are mentioned on the workout log,
Name of individual
Date
The month of logging in
Place
Professional supervisor
Type of exercise
Frequency
Intensity
Duration
A workout regime may include several types of exercise of different intensities at various frequencies. The workout log can also extend to include several other categories such as goals for the month, intended weight, tips for new workouts, etc.
Important of using the workout log
A daily workout log is considered helpful because of the following reasons,
Daily recording workout routine keeps an individual motivated and high-spirited even on a dull day.
The recording makes it easier to navigate all the workout that was done the previous month and if exercises need to be changed.
Workout logs are often signed by supervisors as a token of appreciation.
It helps an individual track their progress in real-time and make necessary adjustments.
A daily workout log keeps an individual consistent and regular in their physical activities.
Various professional gyms require previous workout logs to know what the individual is capable of handling.
Sample workout log
Daily workout logs are different for different individuals because they are based on different goals, exercise preferences, intended weight, and several other factors. A generally accepted sample of a daily workout log is given below,
Daily Workout Log
Name of individual: __________
Date: __________
The month of logging: __________
Intended goals:
_____
_____
_____
| | | | | | |
| --- | --- | --- | --- | --- | --- |
| Exercise | Weights | Sets | Reps | Duration | Notes |
| | | | | | |
| | | | | | |
These workout logs are easily designed by any individual because they are very simple and user-friendly. Moreover, many gyms also provide these logs to help an individual record their workout sessions and a change should be observed after the entire month. A change of frequency or intensity can bring desired results.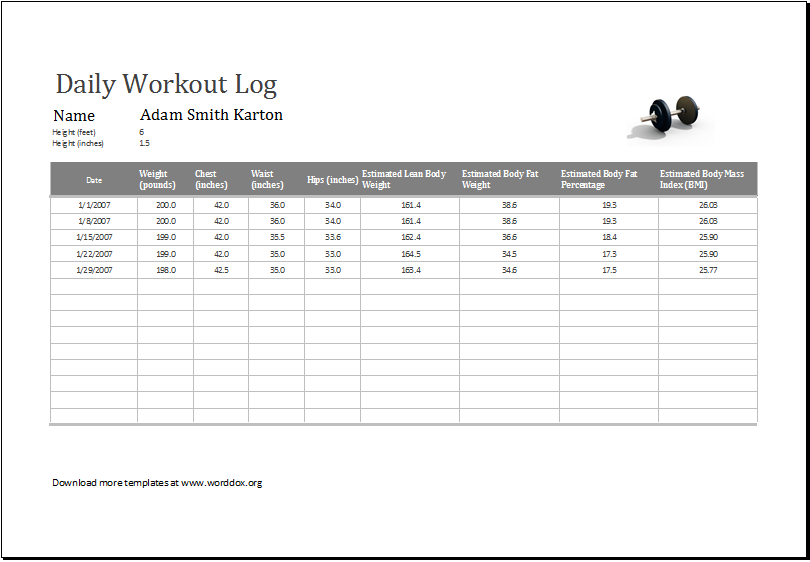 Microsoft Excel Format | File size 61 KB