Price comparison sheet is used by the person who wants to purchase the goods or services on very reasonable price without paying extra. The price comparison sheet allows the person to make the comparison between the prices of the products and then with the help of this price comparison sheet, a person can choose a product which has most suitable and affordable price. In another way, we can say that with the help of the price comparison sheet, a person can perform the evaluation of different products which are being offered at different prices.
The planning of the shopping trips of the person is made and the person can take the appropriate amount of money when he knows the actual price of the products which he is going to purchase. The person with the use of price comparison sheet can find a store with the best quality products providing at lowest rates.
Price comparison sheet is such a document with the help of which a person can make a comparison between different products offered by different brands in the market. This also facilitates the buyer to save a lot of money. In order to ensure that a person is buying a product at a reasonable price, an excel sheet document can be used which is known as price comparison sheet. The prices of different products are compared and the result of the comparison is shown in the form of bar chart. This bar chart shows the clear result of the comparison.
How does the given worksheet work?
Download and save a copy of this worksheet template to your local computer.
The file will be in a .zip format. Unzip and open the file named "Price Comparison Sheet" using MS Excel.
A worksheet with the following preview will be open.
Enter an item which you want to buy along with its description.
Enter quantity 'Qty' of an item and its 'Unit price'. The total will be calculated by itself.
Enter different values of 'Qty' and 'Unit price' for the items from different companies
At the end, you will see 'Max price', 'Min price' and an 'Average price' for the item.
That's how you will have an idea of the price of the item. Hope this worksheet will help you for the purpose.
Preview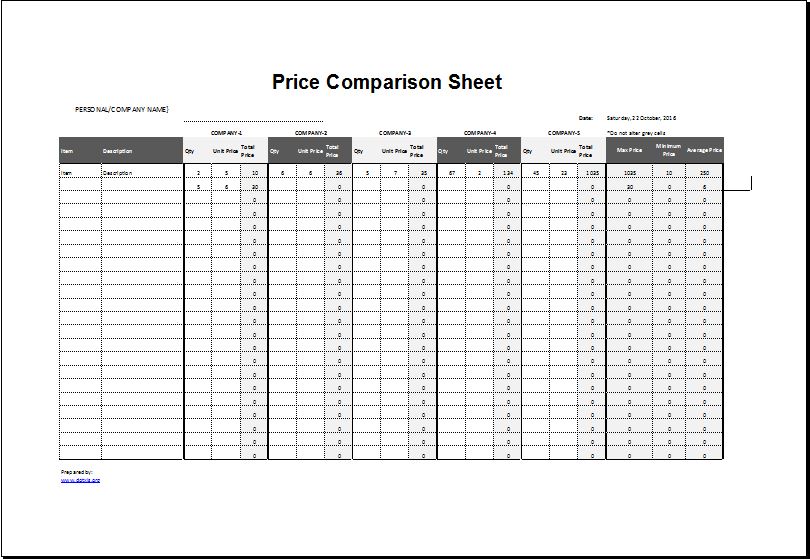 MS Excel Format: File Size: 57KB