It's very important in your life to make a solid insurance policy plan since it protects the financial assets of a person. An insurance policy that is made with care is one that protects a financial life of a person. There are some major insurance policies which everyone should know before selecting any insurance policy.
The insurance policies have been divided into three categories. Those three basic categories are life insurance, property insurance, and asset insurance. However, there are also some other categories. Life insurance policy is a contract between an insurer and an insured who is the policy holder. An oath is taken by the insurer in the life insurance policy that he will pay a certain amount of money to the insurance company to exchange the premium when a person dies. Sometimes, an exchange of premium also takes place on serious or permanent illness of a person depending upon the contract.
The policyholder is required to pay the money on regular basis or sum of money at once. Another insurance policy is property insurance. The objective of this insurance policy is to protect the property of a person in case of any theft or any other serious problem. Auto insurance, travel insurance, and health insurance are some other types of insurance policies. People like to use the insurance policies just because they can be able to fight the unexpected losses since the life is unpredictable. A complete financial advantage is taken by the person with the help of these insurance policies.
The sheet given below is designed to help an individual to keep a record of his/her insurance policies at one place. Since we are already very busy in our routine stuff either it is household or office work, it becomes difficult to manage other things at different intervals. Keeping record makes it easy to organize and remember the tasks before due dates. Hope this worksheet will help you in the circumstances.
Preview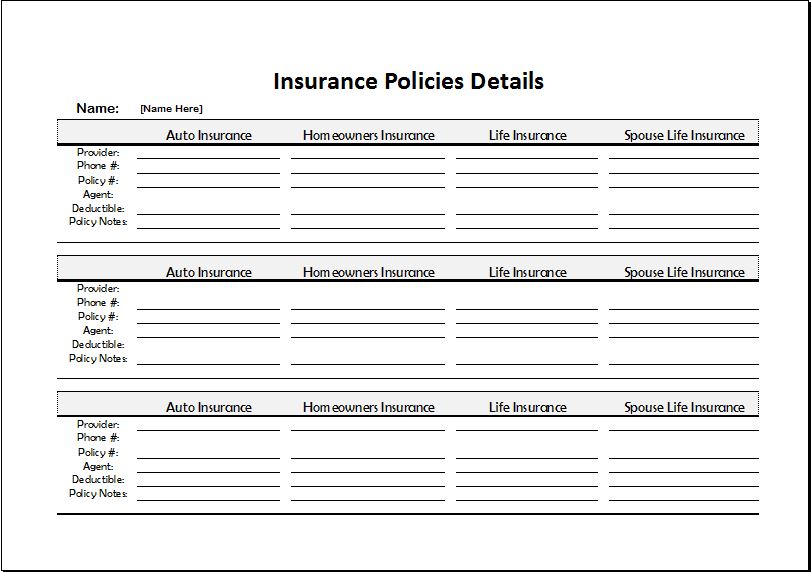 MS Excel Format File; Size: 96KB