Festival food preparation sheet is used when a person wants to prepare the food for a specific festival. A properly prepared food in a festival can play a major role in making the festival successful. It is very important to prepare the preparation sheet for the festival so that you can prepare the best food at the spot. The biggest advantage of using the festival food preparation sheet is that you can never forget any dish to prepare. The kitchen can be made even more organized when you have a well-designed preparation sheet. You can keep your staff more focused towards the food and can make the service of the staff even better and quick.
The sheet should contain parts in it which it ensures that the preparation of the food is balanced. It is neither too low nor too much that it cost a lot to the cook. The list can include the shorthand recipes in the sheet to give the quick idea to the cook about the ingredients of the food. All the important dishes to be included in the festival are remembered and made with great care when one has a festival food preparation sheet to be used. The two columns are added to the sheet to enter the name of the dish and its ingredients. When someone orders for the dish, the cooks are given the task to prepare the food quickly. The use of preparation sheet makes it possible for the cook to remember the ingredients.
It takes enough time to design and prepare a sheet in which one can keep a record of food preparation for the upcoming event. It is all hustle & bustle if things are not planned & scheduled prior the event itself get started. So, for all the food lovers and event organizers this sheet will help you plan and organize food preparation well before time. Enter recipes of your choice including menu, and 'who is making it' to keep a record of what food preparation have you done with! Cheers. Have a good upcoming event food plannings!
Preview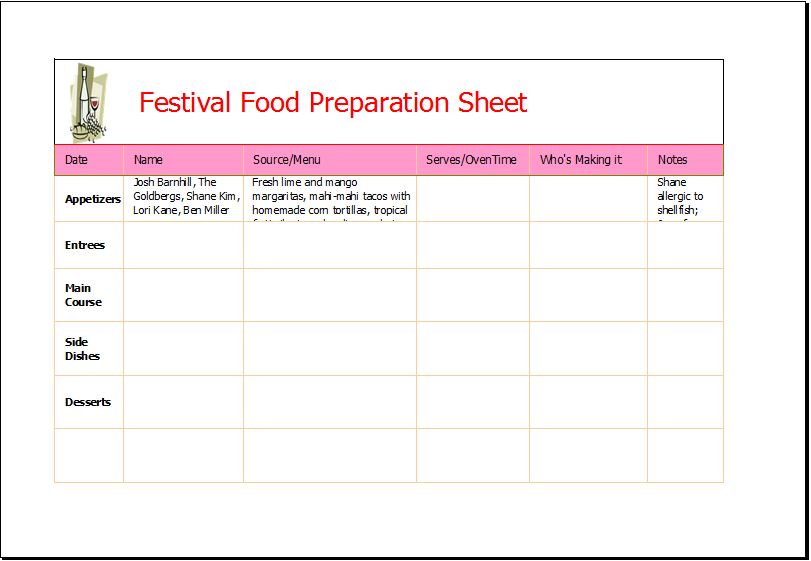 MS Excel Format File; Size: 89KB