A Festival is known as a gathering of people to celebrate and enjoy themselves regardless of any cultural or religious differences. These festivals are mostly celebrated on a national level, which allows all sorts of communities to come forward and represent their culture and traditions without any judgment.
A festival food preparation sheet is a document that enlists all the tasks and activities pertaining to the preparation of food for a particular festival. Planning helps in organizing as well as in preparing before the guests start arriving. Food preparation is a tedious task that requires pre-planning. While making food for a large group of people, it is available to consider cultural appropriation and dietary restrictions.
Add information about food
The food preparation worksheet includes detailed information about food and how it will be served. It takes every aspect of cooking and serving into account to make sure that food makes a lasting impression in front of guests. Some of the major contents of the food preparation worksheet are given as follows,
Festival menu: pre-decided menu saves half the time because it requires a lot of thinking and processing to decide on a menu. All types of communities are kept in mind while finalizing the menu to make sure that every attendee is full and enjoyed their food. The entire menu of the festival including appetizers, main courses, and dessert is pre-decided to let the event go hassle-free.
Number of attendees: total number of people attending the festival gives an idea about how much food should be prepared so that everyone can enjoy but it is not too much that you have to deal with great loads of leftovers. Guest lists have a huge impact on the type and amount of preparation during the festival.
Ingredients: all the ingredients of the decided dishes are bought beforehand. It is important to prefer quality while buying ingredients to ensure the best food served at the festival. All types of vegetables, fruits, condiments, and other ingredients are accumulated to avoid issues during the food preparation process.
Equipment: all equipment required for preparing and serving food and collected prior to the start of the festival to ensure everything is checked. In case of unavailability of any equipment, serving and preparing food can be late which can cause inconveniences to many. This equipment may include blenders, ovens, mortar, serving dishes and spoons, etc.
Dietary restrictions: many individuals in communities observe different dietary restrictions which must be kept in mind. These restrictions may include lactose intolerance, vegetarians, halal meat, etc.
Cutlery: paper plates, cups, glasses, spoons, knives, and forks should be displayed so everyone can help themselves. It is preferred to display cutlery and serving plates because people can take on demand rather than ask management.
Some benefits of the worksheet
Some of the major benefits of devising a festival food preparation worksheet are given below,
It keeps you prepared for the big event and does not let you go astray.
Planning helps in organizing as well as serving to make it a memorable event for everyone.
Worksheets can be shared with organizers and caterers to make sure that everyone is aware of their individual responsibilities.
Preview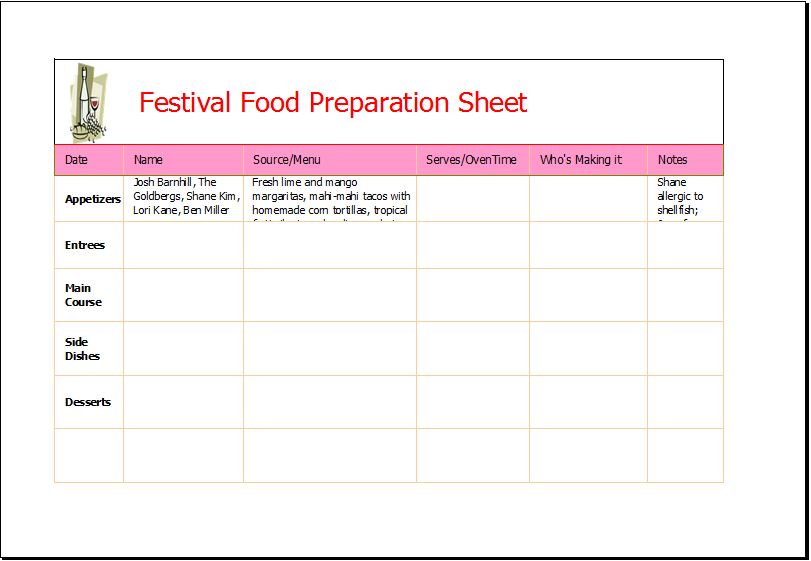 MS Excel Format File; Size: 89KB