A Warning Letter is a letter that is given to an employee/subordinate/student or any person working in an institute or organisation when s/he is not performing up to the mark. A Warning Letter reflects as an official red entry into employee's record. But most companies give a few verbal warnings before issuing a warning letter.
The reasons behind a warning letter may vary depending upon the nature of the offence. It may be issued to a worker who lacks punctuality in following the office timings or to a student who remains absent from a college. The tone of the warning letter depends on the severity of offence and number of occurrences. Usually, a first warning bears a polite tone and is often a word of caution whereas; if the offence is repeated then a second warning is normally written in a strict tone. Some important points regarding warning letters are listed below:
A Warning Letter is typically an official one so the tone should be firm. The repercussions of not respecting the warning should also be highlighted so that the individual is aware of the actions that can be taken against her/him.
It is wise to only address the problem or issue in the letter and not to get personal with the person to whom it is issued
A copy of the letter should always be signed and acknowledgement of receipt by the individual to whom the letter is being issued for any legal aspects.
Ensure that appropriate words are used in the letter but only the ones that do not sound insulting or humiliating beyond moral ethics.
Two copies of the letter must be printed and one should be kept as acknowledgement from the employee
The Warning Letter should clearly mention the number of verbal warnings given prior to the letter
The date should also be clearly mentioned in the letter
The letter must be short and crisp so that it explicitly manifests reason and holds its impact. Unnecessarily prolonged sentences should be avoided
Repercussions and consequences of not respecting the warning form an integral part of the letter and should be overtly stated. The letter should be very clear with all points taken into consideration leaving no room for ambiguity.
Unsatisfactory Job Performance Warning Letter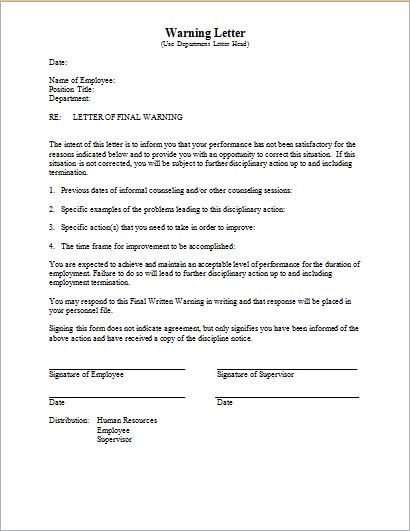 Excessive Leaves Warning Letter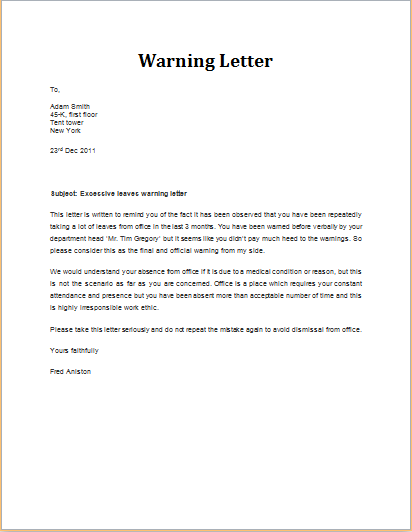 Inappropriate Behavior Warning Letter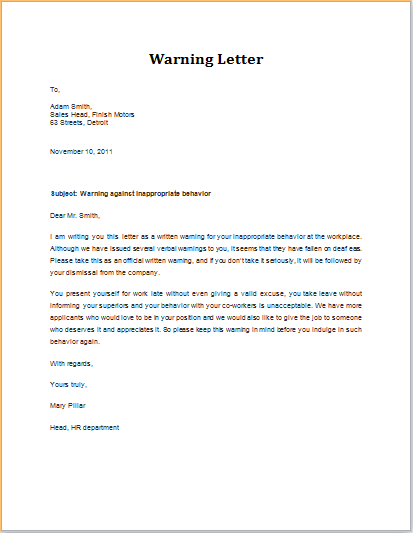 Unprofessional Behavior Warning Letter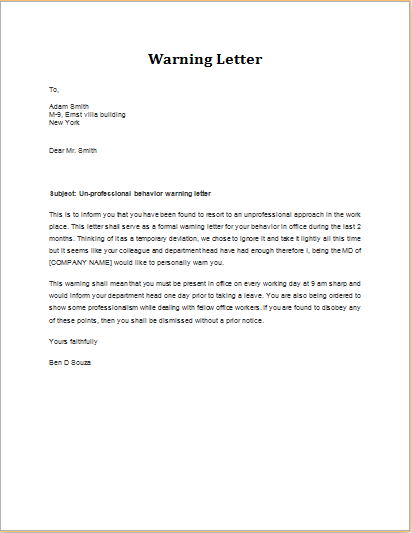 Disciplinary Action Final Warning Letter