Grocery List
Although the advancement and development of science and technology have brought about immense benefits for the human race, it has also made our lives much more busy and complicated. In ancient times people lead a simple life with fewer needs and wants. But today things have changed a lot. Everyone in this world has established a special standard of living and to maintain this standard they work hard and for long hours. As a result, there is little time left for daily activities and chores.
If you leave your life routine disorganized and haphazard you are sure to get into trouble quite often. But leading a life with systematic and organized activities can ensure a smooth living pattern.
For this purpose, you need to document many of your activities. For example, while shopping for groceries you remain clueless if you have not thought about and written down the things you need. For this reason before actually going to the market makes sure you utilize a grocery list template and write down all the necessary things that you need for a particular period of time.
This is a very useful document that not only helps you remember things but also acts as a budget to keep finances under control and lets you compare products and prices before buying. Therefore the grocery list template is a very beneficial document that helps in saving money, time and effort of the individual going for shopping. If you have your shopping planned out you do not have to go the market very frequently.
---
Preview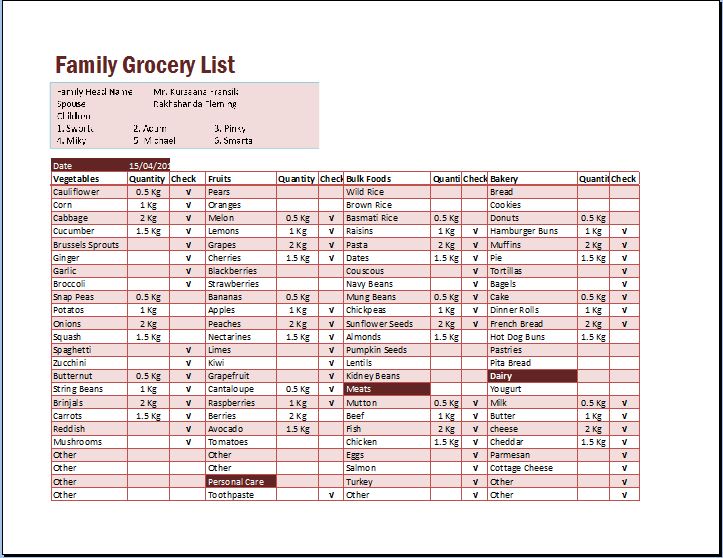 Grocery List
Provided by: ENERGY corp.
Grocery is the requirement of all families. Everyone use different methods to remember all that stuff needed on regular basis. Using grocery list template will really assist you in this aspect. It is all filled with regularly used home items, however, you can add or delete as per your requirement. The same sheet can be customized to schedule grocery on the weekly or monthly basis.
Download size: 35 Kb