Business tasks today are not like that in the past. Previously some things are written down while some remain in memories of those who oversee some position. For example, if a person wants to take a leave from his job he might tell orally to the person in authority. But now this feature is updated and employees can simply fill in the leave form and submit to the administration.
The process works step by step until it is signed and the employee is notified of it. Just like these many things in business are now updated and automated. One among which is claiming your expenses from your company that is your right.
Basically, in any business or organization, the employees are assigned different tasks and processes. Many tasks among them are simply done while sitting in your office while some require your extra effort and time. These tasks might want your travel to a certain location for its accomplishment or may require purchasing certain items of goods to complete it.
The duties and goals that are assigned to the employees are to be achieved by any means and therefore many times the employees pay for these issues from their own pockets. When this thing happens, it is the right of that person to claim their money which they have spent on that task.
These expenses are not to be paid by the employee rather it is the duty of organization to pay for this extra work. This is called "expense claim" and for claiming it a form is prepared carefully by the employee which is called expense claim form.
It is a written document prepared for any person to make a claim against their expenses they made for the fulfillment of tasks of any organization and institute.
Expense claim forms can be made by anyone whether it be an employee in any organization or a student who spent his own money to complete his university project.
These are the goals and accomplishment of that institute and the person has every right to claim his money for it.
Expense claim form's format differ from institute to institute depending on their standards but a simple and normal expense claim form contain the following few things in general:
Specify the company name.
Specify the company's full address and contact details.
Specify the employee name.
Specify the employee id.
Specify the employee designation.
Specify the name of the person whom you are submitting this form.
Specify his designation.
Mention the purpose of your expense.
Date of your expense.
A complete description of expense details.
Specify the category of expense.
Carefully mention the total cost of your expense.
Provide your signature for authenticity at the end of the expense claim form. It will help the company in verification.
Template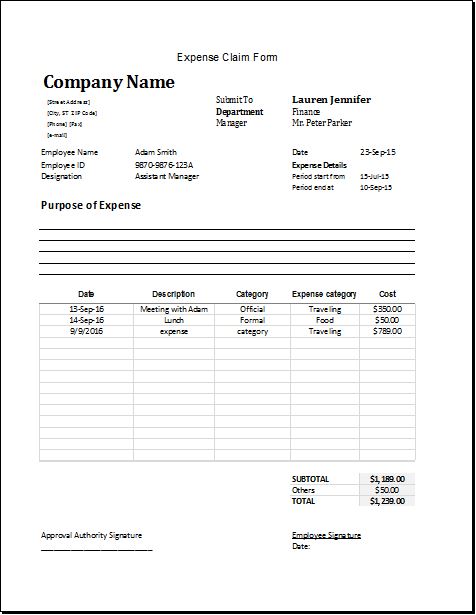 Format: MS Excel | Download