Issue Management & Logs:
Conflict or issue management is one of the most important part of any business in order to cope with the emerging trends in the business activity. Therefore, a smart move for this would be the use of issue log template. Issue logs can be really helpful in reminding about the current concerns of the client and to address them in the most appropriate manner. This will lead towards a better customer satisfaction and good perceived value. As a traditional trend a register was maintained for this purpose but no certain order was maintained.
Issue log templates can be used in a very effective way during the project as well. The log can be placed at the common place which is reachable to all and they may come and write it down their concern or issues that they would like to deal with.
Our issue log template can be used in a number of ways in the most convenient way. Before the commencement of any such project this log can be downloaded and used for its purpose. The sections are made in a very distinctive manner and they can be edited at the maximum level. Client's name, contact number, concern/ issue etc. can be mentioned and recorded. However, if you want to customize at your choice you can easily do that as well in the easiest manner. Adding up your company logo can be a very good idea. This can make your dealings in a very positive way and improve all your client relationship.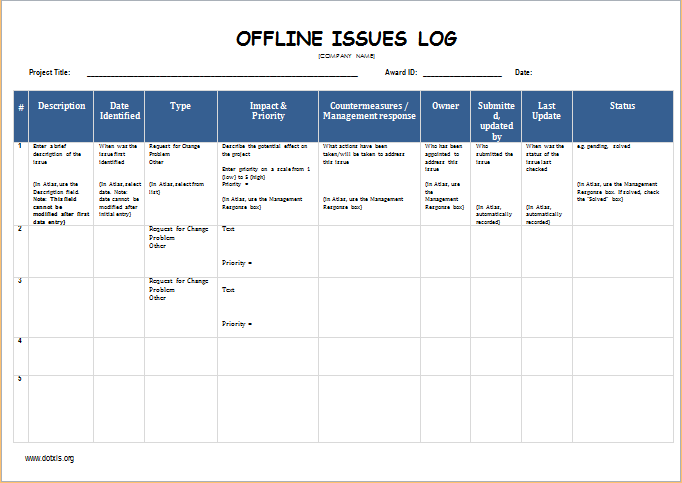 Offline Issues Log Template
Download your file below.
File Size: 36 KB
Download